The Lost Ark has been hailed as one of the best co-op games in recent years. The game is unique for its deep, emergent gameplay and a cast of non-playing characters that live in the world. It's no wonder why so many people love it!
Lost Ark is a game that has many different pets. With this list, you will be able to find all the different pets and their effects in the game.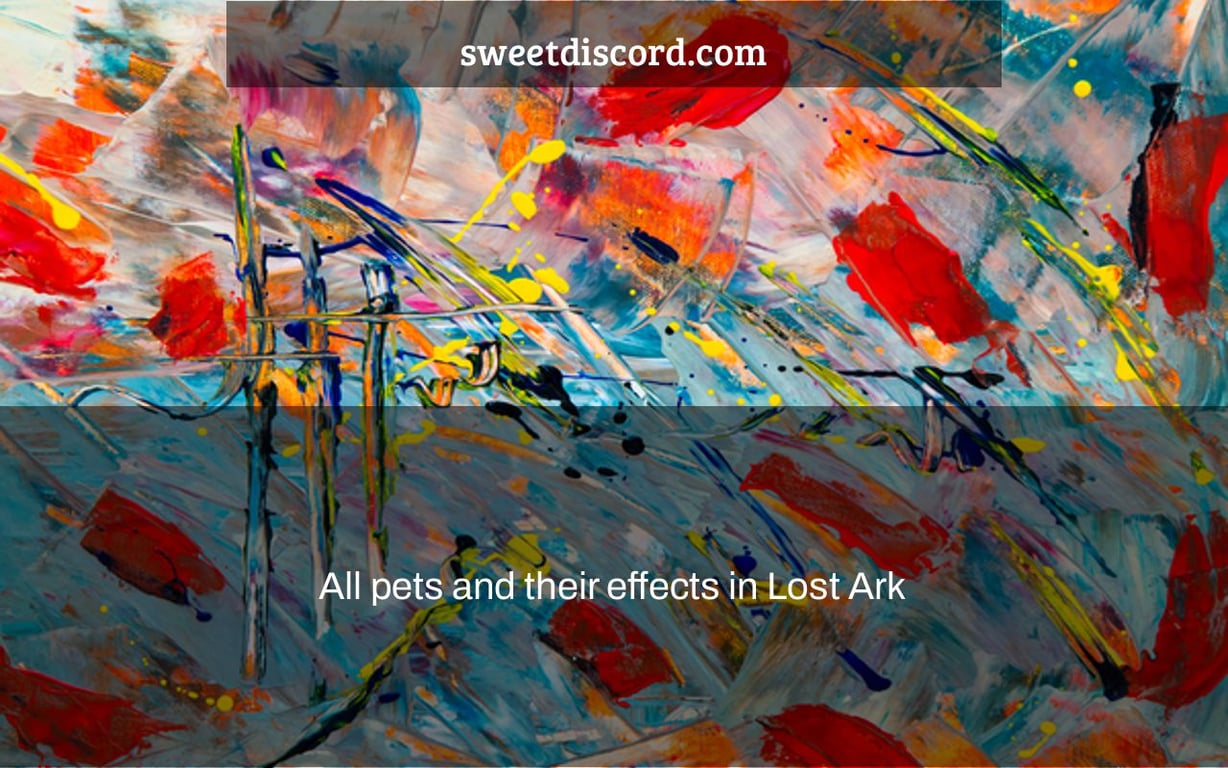 Players may mistake Lost Ark's pets for nothing more than decorative additions to the adventuring group since they are charming tiny followers who do not fight in battle. Having a pet summoned, on the other hand, gives passive offensive and defensive boosts, as well as an auto-loot function that collects goods dropped on the ground and adds them to the player's inventory.
Aside from the statistical advantages of having one, selecting the perfect pet may sometimes be as easy as picking the prettiest fur-ball the player can buy.
Effects of pets
Photographed by
A pet will roll two affects when it is gained by the player: one offensive impact and one protective effect. The player is affected by these two affects while the pet that bears them is summoned.
When you first roll, you'll choose an offensive benefit from the table below.
Improved Crit: +10% increase in Crit (not automatically +10% chance to critically strike owing to the logic underlying how critical hits are computed).
Improved Domination: Domination has been increased by 10%.
Improved Expertise: Expertise has been increased by 10%.
Improved Specialization: Specialization has been given a 10% boost.
Improved Swiftness: Swiftness has been increased by 10%.
Improved Endurance: Endurance has been increased by 10%.
Similarly, one of the defensive bonuses listed below is applied to a new pet.
Antimagic Armor provides a 10% increase in resistance against magical assaults.
Magick Shield: Reduces incoming magical damage by 5%.
Physical Defense: A 5% decrease in incoming physical damage.
Steel Armor provides a 10% increase in physical protection.
Vitality Training: a 5% increase in overall health
Effects of pets are mathematically applied after those of stat-boosting equipment and card deck bonuses. This allows players to double down on their priorities, like stacking additional Vitality onto Vitality and Vigor-boosting legendary gear to create a maximized health bar. As such, having a pet active at all times can optimize a player's in-combat performance — doing so essentially for free.
Should a pet roll a sub-optimal or undesirable pairing of Effects of pets, the player can manually adjust them at the pet management Achatemeows located in Arkesia's major cities, all at the cost of seven Crystals per changed effect. Rather than re-roll and leave these adjustments to fate (or, more specifically, RNG), the Achatemeows allow for players to select a specific offensive or defensive effect with which to replace their pet's active perks.
How to Increase Your Maximum Health in Raiders of the Lost Ark
All pets that are accessible
Photographed by
The following is an exhaustive list of all 122 unique pets that the player can currently own in Lost Ark. Each pet on this list is equipped to bear the same array of Effects of pets, with each effect applied to the same magnitude. The variations between these pets are mostly cosmetic and rarity-based.
Cloaks are a kind of clothing (Acorn Shupi, Carrot Shuri, Cherry Shuki, Grape Shuna, Icicle Shushu)
Totos are a kind of shoe (Ivory Heart, Mean, Snickering)
Foxes are a kind of animal that lives in the (Andrea, Enrico, Franco, Jose, Mario, Simon)
Birds are a kind of animal that lives in (Arong, Barong, Borong, Chorong, Darong, Dorong, Gorong, Hwarong, Porong)
Barbarosa, Bonny, Drake, Kidd, and O'Malley are parrots.
Cats are a breed of feline (Jamis, Lisette, Nerran)
phantoms (Poiai, Poihoi, Poikoi, Poimui, Poipoi, Poirai)
Cats of Great Size (Voldis Leopard, Bilbrin Panther, Shushire Leopard)
Bunnies are cute little creatures (Blue, Green, Pink, White, Yellow)
Yoholing Yoholing Yoholing Yoholing Yo (Blue, Gold, Red, White)
a dozen eggs (Bonbon, Bouncy, Chuchu, Enhance Aid Chuchu)
Dogs are a breed of dog (Bori, Dusty, Jolmi, Tofu, Yangeng)
Gulls are a kind of bird that may be found (David, Josephine, Lavian)
Achatemeows is a cat (Brave, Proud, Shy, Splendid)
Cows are a kind of animal (Brulee, Cacao, Cookie, Custard, Mocha)
Totoiki Totoiki Totoiki Totoiki To (Bubbly, Cackling, Cheerful, Chipper, Excited, Exuberant, Giggling, Grinning)
Lorenzo
Various coffees (Confident Chocolatti, Stuffy Chocolatti, Tenacious Chocolatti, Nervous Macchiato, Puzzled Macchiato, Shy Macchiato)
Chromarong is a kind of chromarong (Excited, Fresh, Happy, Reliable, Soft, Timid, Wet)
Penguins are a kind of penguin that lives (Festive Pepe, Pure Lulu, Cool Pongpong)
Frazio is a character in the film Frazio (Floppy, Fuzzy, Mean)
Pumpkins are a kind of squash (Freddie, Jack, Jason)
Walkers with a lot of weight (M1, M2, M3, M4)
Hawks are a team that competes in the (Helgachu, Helganew, Helgapim, Helgaron)
Starfish is a kind of sea creature (Archie, Dugo, Hook, Pinkie, Sway)
Totoiki Fake (Totoange, Totoanmeow, Totoanri, Totoenfant)
Guardian Animals (Vertora, Vertorang, Vertori, Vertoto)
Card Books, Decks, Upgrading, and More in Raiders of the Lost Ark
The "lost ark pets wiki" is the best place to find information about all of the different pets in Lost Ark. It has a list of every pet and their effects.
Related Tags
lost ark pet elements
lost ark pet effects reddit
lost ark achatemeow pet
lost ark best pet effects reddit